Supplier of hard chrome plating services for components subjected to dynamic & environmental forces. Servicing aircraft, military, medical machinery repair, oil field, food processing & water transport industries.

Related processes & metal finishing capabilities include nital etch inspection, stress relieving & stripping. Meets electroplating needs requiring hard chrome on alloy steels, corrosion resistant steels or nickel based alloys. NAS, BAC, MS, QQ-C-320M AMS 2406, Mil-C-1501, BAC 5709, Class 2-3, most major prime specs.

CFP, a value-added, engineering driven, precision metal finishing solution. We are dedicated to deliver high quality, quick turn, customer friendly precision metal finishing to customers at the most competitive price.

The quality system at CFP utilizes visual factory concepts and dedicated training sessions to achieve the highest quality output. We structure our manufacturing processes, systems, and equipment around velocity based metrics in order to be extremely flexible, thereby reducing total cycle time to meet your delivery requirements.

CPF's customer service and sales professionals are trained to respond quickly to customer requests and needs, in turn supporting your production scheduling.

We have both rack and barrel capabilities, including vibratory barrel technology in our precious metal department line. Process control is supervised by our wet chem lab. We utilize scheduled sampling and analysis of the aqueous processes, along with Hull cell testing and SPC data processing. All our plating processes are proprietary, giving us the benefit of our vendors´expertise.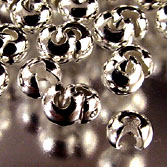 What is Metal Plating?
Metal Plating is the method of applying a metallic coating to another material. There are many reasons to plate objects. They can be applied to almost any coarse material. The most common surfaces that are plated are metals and plastics. Plating can be used for different reasons. Some objects are plated to increase their sturdiness and provide a hard shell for whatever it is plate on. Some are plated to avoid corrosion, and a few are plated just to give off an attractive finish.
There are a few ways of conducting the metal plating process. There is electroplating, electroless plating, metal spraying, and vacuum metallizing. Among these, the most popular is electroplating. Choose one of the following to go into detail about Electro Nickel Plating
As described above, metal plating can be used for a number of reasons. Nickel plating is one of the most common used in decoration. When combined with an underlayer of chromium, it provides a bright, shiny surface that is corrosion-free, and resistant to wear. It is used to coat over chemically metalized plastics, steel, brass, zinc, and aluminum. These products can be found in car parts, metalic decorations (like streamers). Nickel Plating is used for the following reasons:
Provides a bright, shiny appearance.
It can conduct electricity
It can plate a large variety of materials
Has high resilience to wear and tear
Is corrosion-resistant
Long lasting
The plating of other metals mainly depends on the physical properties and composition of the metal that is going to be plated. Some may not be good conductors, thereby making poor Cathodes for the electroplating process. Others may not plate well because of a strength-weight ratio of the metal to be plated. If the strength to weight ratio is low, then the plating material may not hold well with the metal. If the strength to weight is high, then the plating will hold well to the metal, ensuring a good bond between the two. Ideal metals to plate are:

Steel
Brass
Zinc Die castings
Copper Alloys (Zinc and tin)
Beryllium
Aluminum

Before a metal is plated, it must go through a process of pre-treatment. In the pretreatment, the metal is cleansed and prepared with other chemicals, that will quicken or make a more reliable adhesion with the plating metal. A design consideration for this would be to make the object to be plated have certain design characteristic that will make the plating even and stable. (See Considerations)

The actual plating of metals can be divided into three groups. These are:

Barrel
Rack
Strip (reel-to-reel, continuous)

Barrel Plating is used when the plating is done inside of a perforated barrel, and the barrel is rotated to even the plating. It is mainly used in the plating small diverse objects, devoid of sharp and long edges that tend to plate badly.

Rack Plating is used for plating objects that are too heavy, too large, or too complicated to barrel plate. These can vary from small things such as keyholes, to large roller. Most rack plating setups, are made up of copper rods, that conduct electricity very well, and are very durable. The objects are clipped to this copper rack and then put in to the electrolyte solution. The placement of the copper rack in the solution is crucial because if the rack is placed incorrectly, the plating may be lop-sided and uneven.

Strip Plating is used when the object happens to be just a strip of metal. This strip of metal is then put through different process stations (or solution tanks), where they are plated at different levels. It can be used for selective plating.

There are other problems that one must contemplate when electroplating nickel. Other than choosing one of the three types of plating, one must also take into consideration some of the following:

Temperature Control
Agitation
Filtration and Ventilation
Power Supplies
Anodes
Automated Control

Temperature Control is important in most solutions. A few solutions require cooling, others require heating, and some need both. A method of cooling and heating would be to pipe hot or cold water through pipes that go through the solution.

Agitation in plating, increases the density and effectiveness of the plating in some cases. An example of this would be to leave a copper plated substance out in the air. This would improve its luster and durability. A good method that agitates would be Barrel Plating.

Filtration and ventilation come into consideration because there may be a need to remove substances that are contained within the electrolyte. These deposits may ruin the plating, and should be removed at a certain interval of time. This turnover rate should be around twice every hour, depending on what solution one is using.

Power supplies are important because certain levels of voltage affect the plating process. A regulated and even current is most ideal. A current that is sparatic or uneven, affects the plating process.

Anodes are probably one of the most important things to consider in electro-plating. The anodes work better if they are made up of an alloy, that also contains the plating metal. This helps ensure that proper positive ions of the plating metal are conducted through the electrolyte.

Automated Control is important where you are electroplating in mass quantities. The more people working on plating process adds more human error. More error will downgrade the quality of the plating, making a weaker plating job. To use automated processes however, will lower the percentage of human error and raise the overall quality of the plating to an acceptable level